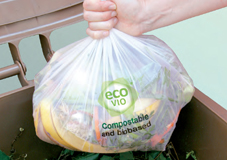 As a major supplier of short cut polyester fibres for the paper and wetlaid nonwovens industry, Advansa has recently concentrated its development efforts on manufacturing biodegradable fibres via the melt spinning process.

In a cooperation with BASF, fibres made from Ecovio biopolymer have now been spun for the first time under industrial conditions and downstream-processed to short cut staple, which can be dispersed homogenously and defect-free in water.

Speaking at the recent Dornbirn Manmade Fibres Conference in Austria, Advansa's Michael Witschas explained that Ecovio is already used successfully for mulch films, organic waste bags, tapes, injection moulded and thermoformed packaging, extrusion coating for paper and board and other food contact applications.

For these products, compostabilty in industrial facilities is well proven according to various norms and standards in Europe, the USA, Japan and Australia.

As a compound, Ecovio offers the potential to adjust properties such as the melting behaviour and thermo mechanical stability according to the final use by choosing the appropriate component ratio of base polymers.

Tear strength, for example, can be increased, or heat sealing properties can be obtained. Possible applications exist in end-uses including packaging, tea bags, hygiene and filtration.

Ecovio is currently made of Ecoflex, BASF's biodegradable PBS plastic and renewable PLA. In contrast to simple starch-based bioplastics, Ecovio is more resistant to mechanical stress and moisture and customers can use the material as a finished product – directly and without any additional admixtures, for extruding biodegradable films.