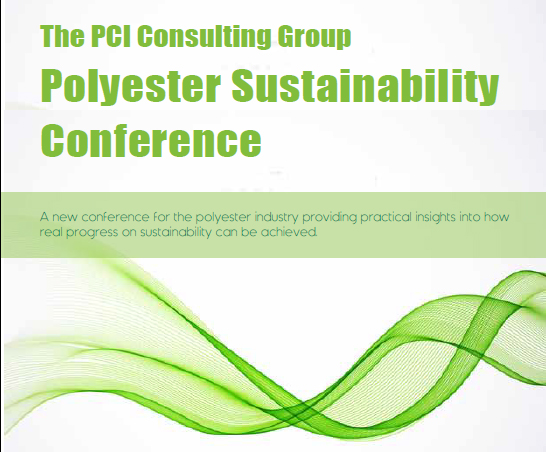 Bio-based routes for polyester fibres into the textiles and nonwovens supply chains – along with a high degree of recycled materials – are a means to reducing carbon footprint, but how realistic are they in practice, and on a global scale?
This will be one of the questions to be addressed at the forthcoming Polyester Sustainability Conference to be held on September 17th at the Queen Elizabeth Conference Centre in London, UK.

"In respect of China – as the world's polyester giant – its moral obligation for environmental responsibility is reinforced by an economic impetus in which recycled materials and modern, efficient manufacturing processes result in a recipe for eco-leadership and business success," says PCI's Philip Gibbs. "But its existing infrastructure in petrochemical feedstocks for polyester production is so vast that, so far, there is little emphasis given to bio-sourced feedstocks."

Outside of China, he adds, over the past decade, there has been a surge of technological advancements in the development of bio-chemicals, namely the precursor chemicals for polyester – biomass-derived monoethylene glycol (MEG) and paraxylene (PX).

PCI Consulting has studied these alternative routes, both from an economic and environmental perspective. While such 'bio' routes can deliver savings to the carbon footprint relative to their crude oil-derived counterparts, there are other issues to consider, it believes, such as land and water use.
One of these key issues is the availability of biomass, and as a result, the arable land areas required. By assessing yields along the biomass supply chain, if 25% of global polyester production was to be produced using sugarcane as a biomass source, this would require over half of Brazil's 9.8 million hectares of sugarcane planted area, and is larger than Brazil's sugarcane bioethanol industry. These calculations put the biomass industry into perspective but ethical resource management considerations must be made too.
"While we have become accustomed to the products and energy we desire, food is irreplaceable," says Gibbs. "Based on these concerns, the bio-chemicals market is unlikely to become the sole solution for companies looking to embrace more sustainable practices. In fact, much can be accomplished by responsibly sourcing the feedstocks already within the supply chain. As such, PCI Consulting is developing an understanding of the environmental impacts for individual assets. The granularity provided by such an assessment can have significant implications for the industry. This asset-based understanding provides the industry with the capability of understanding which producers deliver the more sustainable product. It also provides insight for producers within the supply chain to understand their position relative to others on the basis of environmental impact rather than just cost, and consequently highlights the areas within the industry most critical for improvement."
Further details: www.pcixp.com