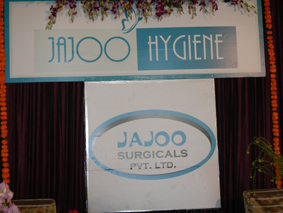 Jajoo Surgical and Investkonsult have this week officially inaugurated and opened their Jajoo Hygiene joint venture for manufacturing JS Care-branded underpads and maternity pads for the hospital and institution market segment in India.
Both Jajoo Surgical, based in Indore, India, and Swedish-headquartered Investkonsult are small family-owned businesses and the venture is a natural expansion for Jajoo Surgical, which is one of the leading suppliers of bleached cotton in India.
The equipment for the plant was shipped in August last year and the erection and commissioning have now been successfully completed.
"If this JV is successful there are more plans to expand the business in the future," says Rakesh Jajoo. "The production unit is placed along the highway to Dehli, allowing for easy access for transportation and good logistics. India as a market for hygiene articles is amongst the world's biggest and there is a great demand for these products."
"The launch has been met with great interest from the market," adds Investkonsult's Johan Berlin. "This JV shows that it is possible for small companies to enter emerging markets, rather than – as is usually seen – only the big players getting access to them. We expect this venture to be a success not only for ourselves, but also for India, with the articles being produced domestically rather than being imported from China."
The inaumguration ceremony was attended by Karl Edberg of the Swedish Embassy in New Delhi.