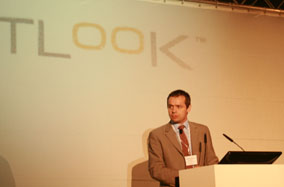 On average, adhesives account for only 3% of the weight of a diaper, so it's something of a tall order for suppliers to the hygiene products industry to have the same positive impact on product sustainability that can be achieved by the manufacturers of nonwovens or other components.

Nevertheless, significant savings are something that Bostik's ZeroCreep elastic attachment adhesive can provide.

Speaking at last week's EDANA Outlook personal care products conference in Barcelona, Spain, Bostik global technical marketing manager Christophe Morel-Fourrier explained that ZeroCreep can significantly reduce the overall amount of adhesive needed during manufacturing, improving productivity and delivering equivalent or enhanced performance at a reduced cost-in-use.

Applied using a 'microspiral' process, it can actually lower the amount of adhesive needed by 50% compared to a standard adhesive applied using a 'macrospiral' process.

The reduced usage decreases greenhouse gas emissions, produces greater energy efficiency, reduces water consumption and improves liquid effluent quality.
Morel-Fourrier pointed out that opportunities in sustainability are best captured when suppliers collaborate across the entire supply chain and utilize Life Cycle Assessment techniques.

"In adhesives, Bostik is committed to performing research to understand the best way to improve our footprint," he said. "While other options, such as lowering application temperatures, offer some results, through LCAs, Bostik is committed to helping customer use less of our adhesives."