GRAZ - International technology supplier Andritz is partnering automotive component manufacturers on the development of a range of nonwovens innovations.
With their durability, moldability and, usually, light weight, nonwovens materials are a popular choice among car manufacturers. It's easy to spot carpet felts, trunk felts and headliners, but there are less obvious yet demanding applications ranging from filters, seat reinforcement and dashboards, to thermal and sound insulation panels, rear shelves and wheel protection.
Andritz technologies are behind all these components, through endlessly-adaptable line configurations which boost production and optimize the visual quality of these key car components. Automotive part producers the world over have placed their trust in Andritz for its knowledge and expertise in the design and manufacture of complete needlepunch, airlay, wetlaid, spunlace and recycling lines.
Most auto projects focus on sophisticated sound insulation, using recycled materials where possible, which contributes to making the car "greener". In such cases the machinery supplier requires deep process knowledge because of the inevitable impact on equipment design. Processing recycling material in combination with virgin fabrics, for example, calls for strict dust emission control.
In this sense the integration of Laroche into Andritz's portfolio in 2021 has further strengthened the Group's product range. Andritz Laroche Airlay Flexiloft technology is a case in point: it responds to the fact that Airlay felt customers seek better control over all the process with more accurate weight control on the blending lines, better evenness and easier maintenance. Overall, it offers state-of-the-art solutions for applications such as structural door elements or parcel trays, as well as under-carpet and dashboard insulation felts. With its ResinFelts system, Andritz Laroche also enables the use of heat insulation felts with phenolic resin inside engine area.
With insulation and other qualities in mind, spunlace technology allows processing of thin nonwoven layers with high tensile strength and sufficient elongation for moulded parts, which is perfect for external finishing layers (for phonic and thermal insulation panels), headliner top layers or the underside of parcel trays.
Such solutions mean Andritz's customers are increasingly differentiating themselves from their competition, as they move away from standardization into more value-added areas. This is where the company's knowledge both of markets and process technology can prove to be a winning combination, through higher productivity, lower energy costs, Industry 4.0-line management, improved visual quality and weight evenness.
Additionally, Andritz sees the automotive industry moving strongly to multi-blank width production, including Velour fabric production, to ensure a quicker return on investment. Large-width equipment requires proven technology and design, however, for which Andritz is recognized in the automotive market, notably for its progressive pre-needling ability.
Innovation and choice
Focusing specifically on needlepunch lines, Andritz offers significant innovation with the PA.3000 cylinder pre-needler and the SDV-2+2 double-velour needleloom, with each technology addressing the complex demands on automotive nonwovens by bringing differentiated added value, greater operational efficiency and improved aesthetics.
The PA.3000 cylinder pre-needler (pictured below), with more than 70% extra surface-impact needling capacity, has been specifically designed for markets such as automotive, which are demanding in terms of the look of the end product and which stand to benefit from the draft-free advantage during the pre-needling stage.
The fact that it operates without internal draft and can effectively "lock in" the fabric's evenness, means the PA.3000 (pictured below) is the ideal solution for processing fibre mats. It is also perfect for processing lightweight products, in particular for 50-80 gsm fabrics, at high speed and an extended width of up to 6.75 m.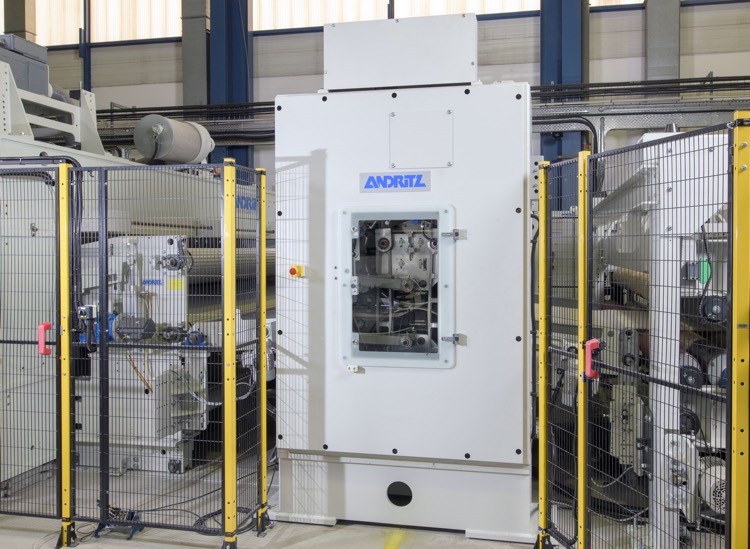 This development comes at a time when cylinder pre-needlers are very popular with producers of nonwovens, and some Andritz customers would not consider a line without them. They offer many advantages and can be used in all types of applications. What really appeals to producers is their simple, trouble-free operation.
Which brings us to needleloom technology, and Andritz has expanded its velour needleloom range, with the SDV-2+2 Double-Velour needleloom. Specifically designed for maximizing output of hard-wearing, visually-attractive fabrics, the SDV-2+2 has been purpose built to meet important challenges for the automotive industry, which we will now look at in detail.
It is widely acknowledged that the velour "loop" quality is improved when it is achieved immediately after the pre-needling process. With this in mind, the ideal line set-up is to have the velouring needleloom "inline" with the carding-preneedling section. There are of course economical constraints to consider: the carding set can easily produce twice as much as a single (two boards) velouring needleloom.
So, from a cost competitive point of view, the double SDV-2+2 is a must, with its production speed of 10 m/min or more (depending on the fabric needling density) and a 4.40 m working width, which is often the ideal production set-up. The SDV-2+2 can also be used offline and enables up to 2,000 strokes per minute. The random needling pattern provides greater flexibility in terms of advanced pitch with no marking.
The SDV-2+2 Double-Velour needleloom (pictured below) handles both velour and the application of an additional unwound layer between the two needleloom frames. Importantly the way this has been applied means there is no fibre contamination between the velour layer and the underlayer.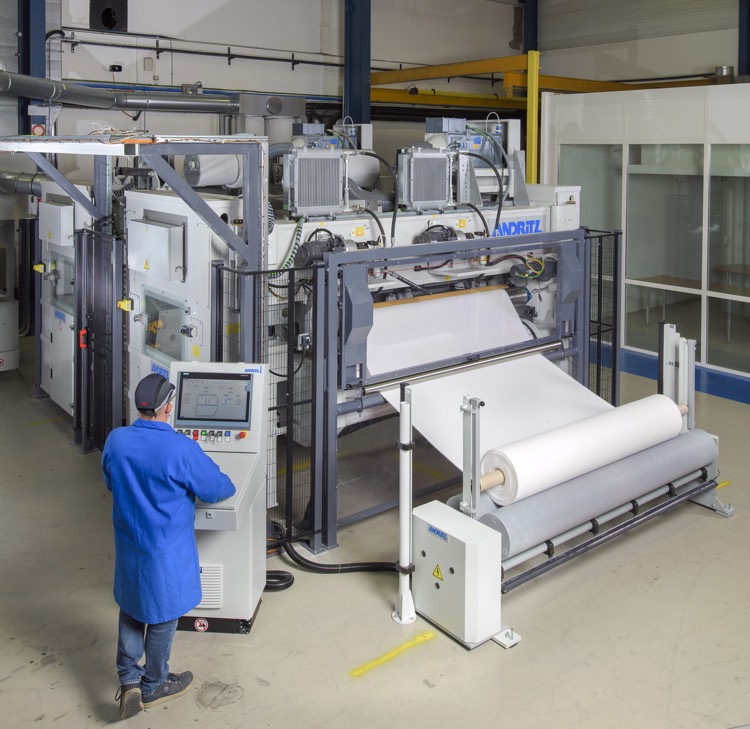 To test these innovations in needling, nonwoven producers are welcome to visit Andritz's technical center in Normandy, France, which is dedicated to needlepunch processes, including the latest Andritz innovations. As part of this complimentary service, customers can run specific trials to fine-tune their product developments and validate both production output and the all-important visual aspect.
In response to premium market requirements, this facility also includes a PA.3000 cylinder pre-needler and a brand-new offline double-velour SDV-2+2 needleloom. Outsourcing production capacity is also available on demand.
Andritz Laroche also offers complete innovative recycling solutions for the automotive market. Due to eco-design regulation, recycling is one of the biggest challenges for automotive suppliers but savings in raw material cost are a serious benefit too.
Demanding
Requirements for the automotive industry are generally the most demanding when it comes to the production of needlepunch, particularly for velour fabrics. Car makers not only expect a great visual aspect but also outstanding surface evenness and highly consistent loops over the whole production run to ensure that the premium visual aspect is consistent.
Although the automotive market was affected by the pandemic and also by the shortages of electronic components, there was, and still is a strong interest in Velour fabrics. This is particularly true for composites fabrics (Velours + underlayer) of up to 1,000 gsm, with sustainability and process cost reduction (latex-free process) driving the agenda.
Digital solutions
As the leading needlepunch partner for the automotive industry worldwide, Andritz says it takes its duty seriously to support automotive nonwovens producers with constant developments and improvements to existing technology.
Maximizing evenness across the web width (CV%) is a major challenge for nonwovens production on needlepunch lines. The ultimate goal is to have an even product at the end of the process, because this not only provides better quality but is also important when it comes to fibre savings – more than 7% fibre savings can be achieved through optimizing web evenness.
In this spirit, in 2021 Andritz developed ProWin profiling technology to significantly optimize the web weight evenness on cards and crosslappers. This represents a revolution in battforming with an impact superior to that of ProDyn 20 years ago. ProWin is the clever combination of two Andritz innovations, ProDyn and ProWid, which enable nonwovens producers to maximize weight profiling (pictured below) at crosslapper delivery while at the same time increasing process speeds by up to 15%.

With ProWin, the company has combined its in-depth process knowledge of needlepunch lines with innovative software to synchronize actions across the line. It has devised a way to reduce fibre deposits at the edges of the web automatically and thus eliminate the "smile" effect across the web. ProWin enables producers to regulate fibre deposits autonomously across the entire width of the web.
As an additional benefit, the ProWin balanced weight profiling correction technology contributes significantly towards reducing card and crosslapper acceleration during high-speed operation. The noticeably smoother operation achieved is expected to reduce maintenance costs over time.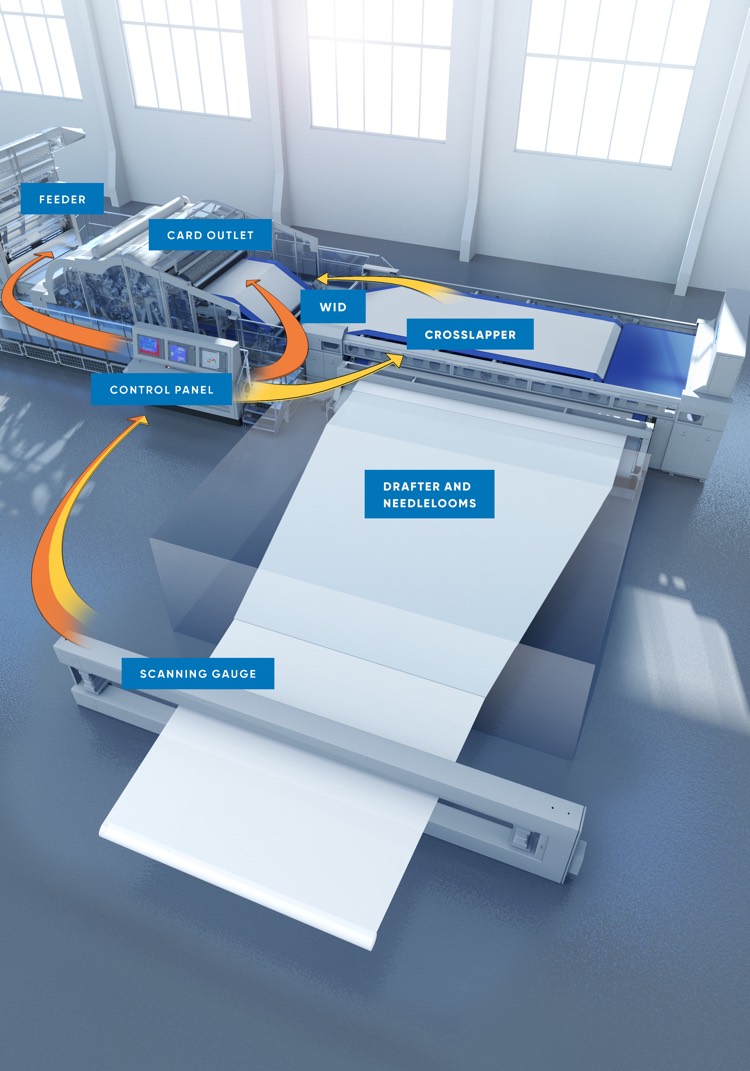 Coupled with the new Andritz gauge and closed loop self-regulation system, Andritz needlepunch lines automatically set the optimum production parameters bringing an unprecedented rate of improvement to the fabric's quality.
With the potential to have a positive influence on all processes, digitalization at Andritz is being applied through its Metris Digital Solutions. In nonwoven automotive applications, Metris can enable a number of efficiency improvements and increased uptime through analysis and management of data obtained from sensors installed on equipment and processes. Metris solutions are the gateway to progress in key areas such as predictive maintenance, energy measurement and management, raw material use and bottleneck identification, as well as enabling remote assistance.  
Glass-fibre
Glass-fibre is another important field of opportunity in the automotive sector. Glass-fibre fabrics developed with automotive applications in mind are often mixed with polypropylene but sometimes also made up of 100% glass fibre. They have generated many more opportunities for the use of capital equipment in recent months. In some cases, production weights can reach 5,000 gsm, and this calls for heavy-duty needlelooms which are protected against very abrasive fibres. In this context, elliptical cylinder pre-needlers, with no draft despite the slippery glass fibres and no crimp, are considered an ideal solution by the premium market to smooth the full needling process and optimize end of line speed.
When it comes to glass fibre for automotive fabrics, success also relies strongly on the equipment manufacturer's ability to minimize downtime using continuous, efficient cleaning and dedusting solutions. Andritz eXcelle needlepunch lines tick this box, keeping maintenance to a minimum and boosting the production output thanks to specific devices like the well-known Andritz fancy roller.
And last but not least, Andritz also offers complete wetlaid technology for production lines from medium to high capacity for glass fibre mats. All lines encompass stock preparation, wetlaid forming, binder application, flat belt drying and winding, and are perfectly tailored to customer needs.
Sustainability
Sustainability and circularity are growing in importance in automotive as in all industries and Andritz has developed the double velour needleloom specifically to address this growing trend. Car makers are increasingly prioritizing materials that can be reused, while materials with recyclability issues such as latex are being phased out. In addition to their sustainability credentials, composite velour products reduce production costs and speed up end of line production at the same time.
Meanwhile natural fibres such as flax and hemp are becoming more common in composites for dashboards and door panels. Andritz offers all the equipment required from bast fibre decortication to the finished nonwoven.
Looking ahead, Andritz forecasts that post-consumer waste will become a major source of material for the automotive industry: Andritz Laroche is ideally-placed to propose complete turnkey lines to process post-consumer waste for nonwovens. For automotive, the future is nonwovens and the technology is available to ensure they perform, raise the game in terms of efficiency and support the vital sustainability agenda.