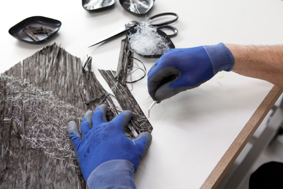 Nonwovens from recycled carbon fibre play a key role in series production of the BMW i3 – the world's first purpose-designed electric vehicle – which began last week.

To date, BMW has invested a total of around €600 million in the i production network and generated over 1,500 jobs in the process. The company stresses that exceptionally high standards of sustainability and resource efficiency have been achieved in the selection of materials and production processes employed.

This is the first time that carbon-fibre-reinforced plastic (CFRP) has been used in automotive volume production and the body structure of the BMW i3 consists entirely of the extremely lightweight and durable material, compensating for the extra weight of the batteries for the electric drive system.

At the new Leipzig plant alone, €400 million has been invested in new structures and machinery for the production of BMW i models and 800 new jobs have been created.

The production network for BMW i also sees key components for the BMW i3 manufactured at BMW Group plants and joint venture facilities at Moses Lake in the USA and Wackersdorf, Landshut and Dingolfing in Germany.

The BMW i3 is the first ever model with an outer skin made entirely of composites, the only exception being the roof, which is made of recycled carbon fibre nonwovens collected from the Moses Lake and German plants. The carbon outer skin is also produced using 25% recycled or renewable material.

The first BMW i3 off the line has been recruited as the lead car for the International Berlin Marathon which takes place on September 29 and was handed over to German marathon runner Jan Fitschen.

Deliveries of the BMW i3 to customers in Germany and other European countries will begin in November, with the car's launch in the USA, China and other markets to follow in early 2014.

"This represents a milestone in our company's development," said BMW production chief Harald Krüger. "Not only is our first electric car about to hit the road, we are also completely redefining sustainability with regard to personal mobility thanks to groundbreaking technologies and processes. We require 50% less energy and 70% less water, and source the electric energy for production of the BMW i models CO2-free from the wind turbines at the plant.

This huge reduction in energy and water consumption can be attributed primarily to the elimination of the traditional painting process for steel and aluminium bodies.