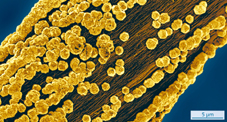 What are possibly the smallest nonwoven webs in the known universe are those meticulously assembled at the CSIRO research centre in Australia in so-called 'forests', and then used as the basis for creating nanofibre yarns.

And now scientists at the Fraunhofer Institute IWM in Freiburg, Germany, are growing diamonds on them.

The aim is to replace the tiny diamond-impregnated steel wires which are currently used as 'saws' in the photovoltaic and semiconductor industries. These are employed in wafer manufacturing that inevitably generates extremely expensive dust known as 'kerf' – and it's believed that ultra-thin and extremely stable threads made of carbon nanotubes coated with diamond could significantly reduce it.

Perhaps not unsurprisingly, such a material is extremely difficult to synthesize. Diamonds only grow under extreme conditions – at temperatures of around 900 degrees Celsius in an atmosphere containing hydrocarbons.

Growing diamonds on nanotubes is a tricky proposition, because the carbon tends to form graphite. In order to catalyse the formation of the diamond phase, it's necessary to use reactive hydrogen to prohibit the deposition of graphite, but this also damages the carbon nanotubes.

IWM scientist Manuel Mee and colleagues are working on a solution for protecting the fine carbon nanotubes, which grow like forests on a substrate.

"During our first experiments, fused silica from the reaction chamber accidentally came into contact with the coating plasma," he explains. "It settled on the substrate and protected it against the aggressive hydrogen. And to our surprise, diamonds actually grew on this layer. We then had to carefully study the silicon oxide layer, which was deposited in an undefined manner, and find a method of controlling the deposition and optimising the process."

Tests with a transmission electron microscope at CSIRO's lab in Australia revealed that the nanotubes actually survived under their protective layer.

In principle, the diamond-coated nanotube yarns could be the ideal material on which to base a new generation of saws.

"The new saw wires hold out the promise of being far superior to traditional steel wires," says Mee. "Because of their high tensile strength, they can be manufactured much thinner than steel wires – and that means significantly less kerf loss."
A joint patent application by Fraunhofer and CSIRO has already been filed for the method and corresponding products, and research is ongoing.