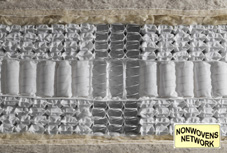 UK bed manufacturer Harrison Spinks adopted an unusual business strategy after deciding more natural fibre nonwovens were required in its mattresses – buying a farm.

The company is now growing and processing its own flax and hemp in Bolton Percy, Yorkshire, in order to build on the success of its Posturfil pocket spring systems which remove the need for foam in mattresses.

Consisting of a 'spring inside a spring' with the outer coil being made of lighter wire to make it more responsive, and the inner coil adding a support function, the mechanism is encased in spunbond polyester nonwovens and has stretch in all directions.

In mattresses this is then encased in layers of flax, hemp and wool nonwovens.

Having successfully sold the global rights to this patented mattress core system to Leggett and Platt (but retained them in the UK and Ireland), it has subsequently been adapted by Johnson Controls for its ComfortThin automotive seating system, as previously reported in Sustainable Nonwovens.

"The Johnson Controls seat is thinner, lighter, more comfortable and no more expensive than foam," said MD Simon Spinks, speaking at the Nonwovens Network UK's annual seminar held in Bradford, West Yorkshire on July 11th. "In addition, foam is difficult to recycle, so there are obvious advantages, because the automotive industry's focus is on durability and weight savings. It's a great product and they are now taking it out to the OEMs, so we'll see what happens."

A third potentially huge area is in the footwear market, since pocket spring inserts have been proven through testing at Preston University to lead to a 10% reduction in peak load through the joint sin the leg, which could potentially lead to less injuries. This application has attracted the attention of a number of major footwear companies.

"Both automotive and footwear are much bigger than the business we're currently in, but meanwhile, we're now processing our own mattress fillings in the UK from our own flax and hemp," said Spinks. "These materials are breathable, with temperature and mositure management, as well as being renewable and recyclable. And I always wanted a tractor as a kid..."