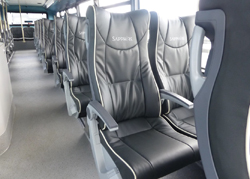 Public transport company Arriva has recently launched its latest venture into the bus market – the new 'Sapphire' service in the North West of the UK and Wales.

With this premium programme the company is looking to attract non or infrequent bus users by improving perceptions about the mode of transport.

The ADL Enviro 400 double decker vehicles have undergone a complete overhaul, with new 2 + 1 seating installed on the upper deck and refurbished standard seating on the lower.

Charcoal and cream E Leather was chosen to upholster throughout, providing a sophisticated, upmarket appearance.

Not only does the modern 'Sapphire' branding look attractive, it has also meant the introduction of a number of facilities that aim to provide a more user-friendly, up-to-date travel experience. These include free Wi-Fi, advanced audio-visual announcements and e-ticketing opportunities.

Using its patented process based on techniques adapted from the needlepunching of conventional nonwovens, E Leather, based in Peterborough, UK, combines leather fibre and a high performance core to produce an engineered artificial leather with exceptional properties in terms of appearance, weight, durability and eco credentials.

Manufactured using leather off-cuts that would otherwise end up in landfill, E Leather reduces the costs both environmentally and economically of producing high-quality, upholstery material.

Discarded leather is upgraded in a process,which physically interlinks the fibres without the use of adhesives. The manufacturing process uses techniques which close loop recycles 95% of the process water, and converts its own waste streams into energy which is fed back into the process.

E Leather is a clean technology produced using sustainable natural leather fibres and 100% zero carbon electricity in its production process.