WEINHEIM – Optimism dominated at the Future of Mobility virtual event hosted by nonwovens leader Freudenberg Performance Materials on December 10th, writes consulting editor Adrian Wilson.
In a poll conducted during the webcast, well over 70% of attendees said they believed a climate neutral and emissions-free transportation industry was fully achievable in the near future.
This vote of confidence could perhaps have been influenced by the enthusiasm of keynote speaker Matthias Horx, of the Frankfurt-based Zukunfstinstitut, who painted a very positive picture of a move away from linear thinking as a result of the Covid-19 pandemic this year.
"Will the coronavirus just be a little flaw in our inevitable progress?" he asked. "I really don't think so – I think it will stay with us. What we see is a world lifted up into the air and everything is in a mess, but this will create a new order. For much of history, crisis has been a normal state, but this is a special one – not a war, and not something relatively minor in the greater scheme of things like the financial crisis, but something that has resonance in every layer of life.
"Society stopped, and that is new. In the Hong Kong virus of the 1970s in which many thousands of people also died, nobody would have thought of just stopping everything. The dynamics of change are that for every trend there eventually comes a counter trend leading to the next step of the process, where something different has to happen. This is where we are."
Glocalization
Globalisation, he added, has had "a really heavy run, with just-in-time production and continuous outsourcing to places where labour is cheaper, but it has now created a new nationalism.
"The concept of "glocalization" has started to make a lot of sense to many people in 2020 and we think a lot of structures will start to follow the pattern of local autonomy while retaining open connections to a wider world. Outsourcing is over and nearshoring will be the result."
Adding weight to this, Horx said, was the movement of work to more mobile and virtual structures that has been forced into daily routines in 2020, and a second trend of the move away from dense urban areas to suburbs with sufficient local amenities for making lockdown situations tolerable. It was now also clear the internet had moved in the wrong direction but for the first time in 2020, Facebook and other major players have had to make interventions to correct its path.
As far as energy, he said, we are at the end of the fossil age with more than enough energy to be harvested from the sun, the wind and the waves.
"We have experienced an anthropause," Horx concluded, presenting four potential views for what the world could look like in 100 years time – from the familiar dystopian desert to a greener utopia. "I believe it is possible to actually make the world greener. It's called progress and I still believe in it. Sometimes a crisis is necessary to point the way forward."
New business models
A roundtable discussion on the options for the direction new mobility should take involved Tim Horsenfeldt of Tier 1 automotive supplier Schaeffler AG, Ulf Groos, head of fuel systems at the Fraunhofer ISE and Hugo Spowers, founder of Riversimple, the developer of hydrogen-powered fuel cell electric vehicles based in Wales, UK.
The general consensus was that it will involve a combination of battery electric vehicles, hydrogen fuel cell vehicles and biosynthetic fuels, with the infrastructure to make them viable perhaps more important than developing the technologies further.
Spowers proposed an entirely new business model involving a systems approach, looking at the lifetime cost of a vehicle and not just the build cost, with a circular supply chain for parts in which systems like Blockchain could prove instrumental.
Innovations
Four of the latest Freudenberg Performance Materials products were then presented. Tobias Speth explained the company's new friction inserts for joints, consisting of a 20 micron carrier material studded with 10-115 micron harder particles to create a micro interlocking system between parts while adding no additional tolerance.
This product addresses challenges with new electric vehicles in terms of NVH (noise, vibration and harshness) while have no negative impact on corrosion. The 100% inert materials increase the friction coefficient of the part while leading to reduced scrap rates, with bolted connections able to replace laser welding processes for parts, requiring much reduced quality inspection for car manufacturers and allowing higher torque for lighter weight designs to be achieved.
Jan Ketterman and Klemen Pokrivac charted the development of acoustic pads from the shoddy with chemical binders of the 1970s to latest three layered Freudenberg solutions based on three layered combinations of polyester staple fibres and a meltblown core.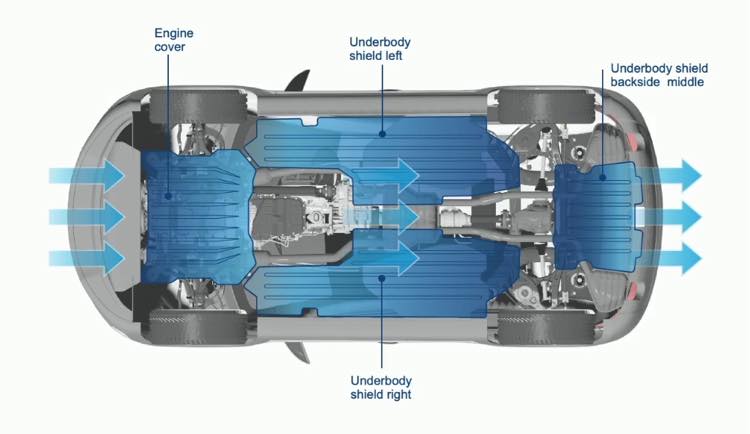 Similarly, Dr Arun Venugopal explained how underbody parts had progressed from metal, to plastic and on to glass and polypropylene fibre based products, prior to the latest 100% polyester lightweight Freudenberg designs.
The company uses a proprietary polyester spunbond which in composite form delivers an improved acoustic performance along with much higher temperature resistance, while being 100% recyclable and extremely easy to mould to shape.
GDL
The Freudenberg gas diffusion layer (GDL) for fuel cells successfully meets a number of contradictory demands in fuel cell stacks that can be in assemblies of up to 300-400, said Dr Volker Barnhardt.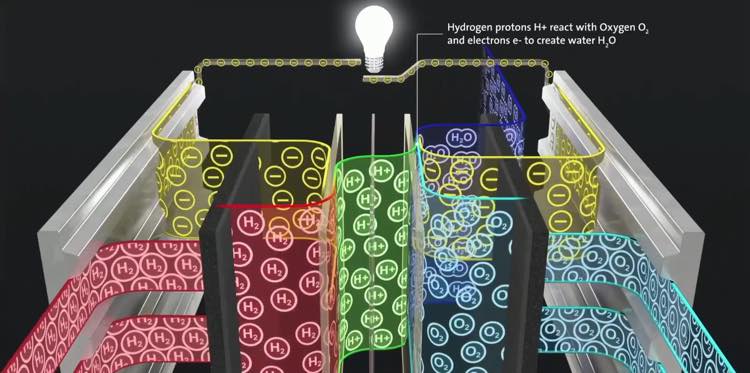 Within the single fuel cell stack, it is positioned between the biopolar anode and cathode plates at either side of the catalyst coated membranes.
The material has to be both thin and stiff, porous but thermal and electrically conductive, and keep water out while ensuring the membranes in the fuel cell remain wet.
The GDLs are produced in a roll to roll system with 100% camera-based surface inspection at Freudenberg.
"The GDL is non-fragile and can be easily processed, wound and converted," Barnhardt said. "It has a superior magnetic polishing liquid (MPL) surface that is crack free and smooth, with its morphology designed for customised applications. It has a high specific power density and customers confirm it is the only product available on the market with a thickness of just 120 microns."