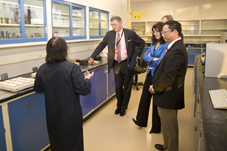 Bostik has completed an $8 million expansion of its technology centre in Wauwatosa, Wisconsin, USA, as a centre of excellence for one of its key technology platforms – hot melt pressure sensitive adhesives which are widely used for bonding nonwovens and other components in hygienic disposables.

"The centre has earned a reputation for delivering breakthrough innovations in the disposable hygiene industry such as ZeroCreep and Relyance," said Bob Marquette, senior vice president for the Americas. "The R&D functions and business leadership positions that are now being located there will ensure Bostik continues to lead the way in adhesive solutions for the hygiene, label and industrial segments we serve."

On average, adhesives account for only 3% of the weight of a diaper, so it's difficult for suppliers to the hygiene products industry to have the same positive impact on product sustainability that can be achieved by the manufacturers of nonwovens or other components.

Nevertheless, significant savings are something that Bostik's ZeroCreep elastic attachment adhesive can provide by significantly reducing the overall amount of adhesive needed during manufacturing, improving productivity and delivering equivalent or enhanced performance at a reduced cost-in-use.

Applied using a 'microspiral' process, it can actually lower the amount of adhesive needed by 50% compared to a standard adhesive applied using a 'macrospiral' process.
The reduced usage decreases greenhouse gas emissions, produces greater energy efficiency, reduces water consumption and improves liquid effluent quality.

Relyance, meanwhile, is an olefin-based adhesive platform that was launched in in response to escalating raw material costs and shortages associated with traditional technologies.
Traditional SBC polymers employed in hygiene adhesives can only be derived from the processing of the crude oil feed stream and have experienced swings in both price and availability as the world oil market fluctuates.

Olefins are derived from both crude oil and natural gas and global trends indicate growth in the processing of natural gas, which will result in increased investment and therefore more reliable availability of raw material and improved cost development.

Historically, SBC has been the standard for adhesives used in hygiene products while olefin polymers, in comparison, have had limited capability. Through its formulating expertise, Bostik has created olefin-based adhesives that provide excellent processability, outstanding performance and meet the rigorous demands of the hygiene disposables industry.

Wisconsin Lieutenant Governor Rebecca Kleefish is pictured second from right as senior chemist Ai Nguyen conducts a tour of a new lab at Bostik America's expanded new centre in Wauwatosa.