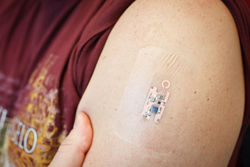 Materials capable of large-area sensing and actuation, along with stretchable electronics, are just two developments being refined at the Holst Centre, an independent R&D institute located at the High Tech Campus in Eindhoven in the Netherlands.

Researchers are working on enabling technologies for flexible electronics and wireless autonomous microsystems, including conformable wearable systems that incorporate printed electronics, applicable for the healthcare and general wellbeing sectors.

Work has included building-up materials that are capable of sensing and actuating over large surface areas – over several tens of square centimetres – via printed electronics and additive manufacturing.
Log in or subscribe to see this content