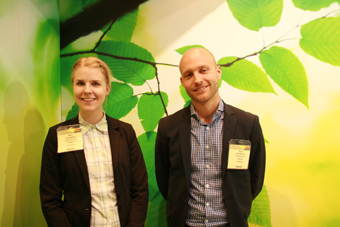 Pictured at INDEX 14 are Maria Wennman and Robin Grankvist who displayed their company Organoclick's portfolio of biobased binders for the nonwovens industry at the Geneva show.
The Swedish cleantech company has also just entered into a collaboration with the Taiwanese textile manufacturer Chang-Ho Fibre to promote a water-repellent fabric treatment that is readily biodegradable and entirely fluorocarbon-free.
The majority of water-repellent functional textiles produced today contain harmful chemicals, such as fluorocarbons. One such example is PFOA, a chemical that disrupts hormones and that is essentially non-biodegradable.
OrganoClick and Chang-Ho Fibre now offer an alternative.
Log in or subscribe to see this content