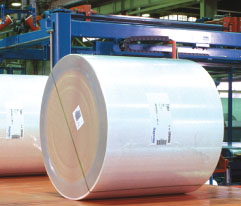 Rayonier is expecting to sell between 30-50,000 tons more of its speciality cellulose fibre in 2014 than it has this year.
The company, headquartered in Jacksonville, Florida, says it has concluded negotiations with customers for prices and volumes of cellulose specialty grades in 2014 and on average expects that prices will be seven to eight per cent below 2013, consistent with overall market pressures.
The company, which also manufactures fluff pulp for nonwoven-based disposables, now expects 2014 sales volumes of of 520,000 to 540,000 metric tons of cellulose specialties. Higher expected volumes reflect the successful completion of the Cellulose Specialties Expansion (CSE) project at the company's Jesup, mill in Georgia that expanded capacity of high-margin speciality grades by 190,000 metric tons and customer commitments for additional volume from the expansion during the multi-year ramp-up period.
"After years of price increases, we have worked with our customers to moderately reduce 2014 cellulose specialties prices in response to what we believe are near-term supply and demand conditions," said chairman, president and CEO Paul Boynton. "We remain confident that our technical leadership, commitment to quality, and increasing specialties sales volumes from the CSE project position our Performance Fibers business for long-term earnings growth."