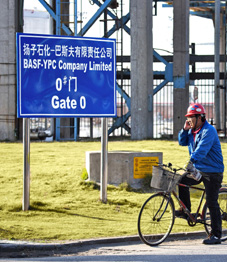 With their superabsorbent polymer (SAP) plant scheduled to commence production in 2014, BASF and SINOPEC are considering extending their BASF-YPC joint venture in Nanjing, China.

With the expansion of existing ethylene oxide (EO) production and a new plant for neopentylglycol (NPG), BASF-YPC is looking to further expand its acrylic acid value chain with additional acrylic acid and butyl acrylate plants.

In May 2012 BASF-YPC broke ground on its superabsorbent polymers which will have an annual capacity of 60,000 metric tons per year, primarily to serve the market for nonwoven-based personal hygiene products like diapers and femcare items.

Acrylic acid is an important precursor for the production of superabsorbent polymers. Butyl acrylate, one of the esters of acrylic acid, is used to produce adhesive and surface coating raw materials.

Sinopec is Asia's leading refined oil products producer and the second biggest in the world. It also has 300,000 gas stations and ranked the fifth in the Fortune Global 500 listings in 2012.

With sales of €72.1 billion in 2012, chemicals giant BASF has more than 110,000 employees globally.