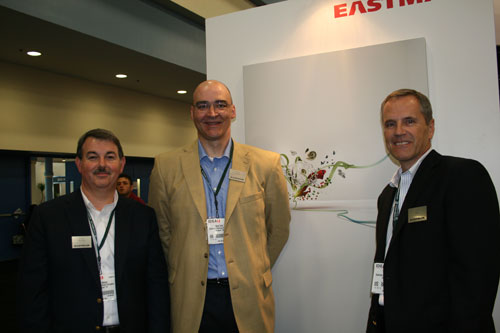 At the IDEA nonwovens show which opened in Miami today (April 24) Ahlstrom introduced its new Captimax media for fuel filters in passenger and commercial heavy-duty vehicles and off-road machinery. Adrian Wilson reports direct from the US event.
The new Captimax is also being evaluated for use in other applications such as hydraulic and fuel water separation and is based on Eastman's new Cyphrex polyester and cellulose microfibres , also making their debut at the Miami show.
"Eastman Cyphrex microfibres provide the potential for a unique, game-changing fibre tool kit," said Eastman Cyphrex technology director Mark Clark in Miami. "They offer tunable properties in respect of the size, shape and material that provide wet-laid nonwoven producers with competitive advantages that aren't currently available. They have demonstrated nearly drop-in compatibility with existing wetlaid nonwoven processes and potential initial uses are in air, water or fuel filtration, specialty papers and battery separators."
The first result from Ahlstom is a filter media that allows manufacturers to obtain optimum micron efficiency ratings and dust holding capacity without making compromises.
Captimax provides a balance of excellent small-particle retention and the potential for longer product life. The media also lets fuel filtration system suppliers maintain existing capacity levels but reduce the product size. In addition, it can allow for increased efficiency with better options to filter fine particles to protect fuel injectors in vehicles and machines.
"Captimax media offer both high efficiency and high capacity," said Gary Blevins, vice president of marketing and commercial for Ahlstrom's Transportation Filtration business. "We've given our customers the ability to make filters to the specifications they need, allowing them to develop products outside the standard constraints from the media."
Pictured in Miami are (left to right), Eastman's CTO Greg Nelson, technology director Mark Clark and vice president of innovation,marketing and sales Tim Dell.