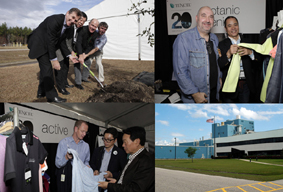 Lenzing Group has celebrated twenty years of Tencel lyocell production with a commemorative ceremony and a customer symposium at its plant in Mobile, Alabama, USA.

Mobile was the first large-scale industrial production site for lyocell in the originally built by the UK's Courtaulds, which Lenzing took over with the acquisition of the Tencel Group in 2004.

In recent years it has been upgraded and annual production capacity increased to around 50,000 tons of fibre. In addition there is now 60,000 tons of annual capacity at Heiligenkreuz in Austria and 40,000 tons at Grimsby in the UK, with a fourth production plant currently being constructed in Lenzing in Austria, which will also have an annual capacity of 60,000 tons.

"Tencel has been the biggest technological step forward in the man-made cellulose fibre industry since the invention of viscose 100 years ago," said Lenzing CEO Peter Untersperger at the ceremony in Mobile.
"It ideally combines the need for competitive production costs compared to other fibers with the requirement of ensuring sustainable, environmentally compatible production.
The initial phase in the development of lyocell fibres was characterized by a bitter rivalry between the Lenzing Group and Courtaulds. Both conducted research in competition with each other to become the first to launch the promising new fibres.

At the production start in Mobile in 1992, Courtaulds had a competitive edge, but Lenzing's first large-scale lyocell factory in Heiligenkreuz was already in the pipeline and was successfully put into operation in 1997.

In 2004, Lenzing finally acquired the Tencel Group and all its production sites.

TENCEL fibres are now used by the textile industry as well as for nonwovens and the production process is particularly environmentally compatible, characterised by the almost complete recovery of the deployed solvent.
Lenzing is continuously developing new applications in cooperation with customers and partners.

See also: The Genesis of Sustainable Fibres