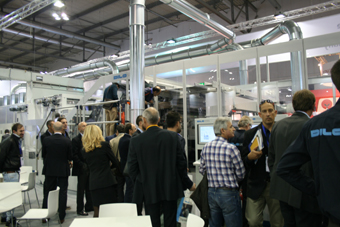 With 123,000 visitors from 147 countries and 1,691 exhibitors from 46 countries participating, the 17th ITMA textile machinery show which took place in Milan, Italy, from November 12-18 can be considered an unqualified success.

"We registered a 20 per cent jump in visitor numbers compared to the last event in 2011 and more importantly, from feedback, we can confidently say that our message on sustainability has resonated greatly with buyers," said Charles Beauduin, president of show owner CEMATEX, the European Committee of Textile Machinery Manufacturers. "Our exhibitors have discovered that textile manufacturers are serious about checking out new solutions to improve their competitive edge."

"We felt for the first time that there's a real understanding and interest in energy efficiency and green technology," added Regina Brückner, CEO of the German finishing technolohy specialist Brückner. "There's a trend among our customers to want to upgrade their very old equipment because they understand the necessity of a highly productive and efficient production over the entire textile production process."

A full report on nonwoven machinery developments at the show, including news from Andritz Nonwoven, Autefa, DiloGroup, Oerlikon Neumag and many more companies will be published in the next print issue of Sustainable Nonwovens.