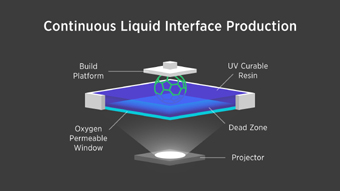 Ford has announced details of its early access to Carbon3D's Continuous Liquid Interface Production (CLIP) technology.

Last December Ford began testing a pre-release version of Carbon3D's first CLIP-based device and reports that it has now demonstrated the ability to unlock mechanical properties unattainable with any other 3D printing technology.

CLIP technology harnesses light and oxygen to continuously grow objects from a pool of resin instead of printing them layer-by-layer.
Ford has been using conventional 3D printing technologies to prototype new product designs for more than twenty years. Recently, the company developed a dedicated new additive manufacturing research programme to explore the potential of new technologies to manufacture vehicle-ready parts.
Log in or subscribe to see this content