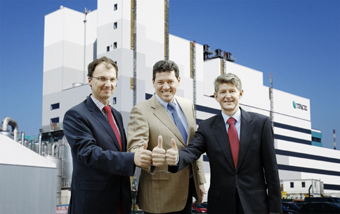 Lenzing reports the completion of an extremely positive initial six-month ramp-up phase at its new Tencel fibre production plant at the Lenzing site in Upper Austria.

"The plant has already successfully operated at full capacity and in a trouble-free manner for the past months,and the quality of the manufactured fibres fulfils our high expectations", says Peter Untersperger, Lenzing AG CEO. "Our new second generation Tencel fibre production facility is a technological milestone for lyocell technology, and proof that we are several years ahead of all our competitors."

It enables more than 67,000 tons of Tencel fibres to be manufactured annually on one jumbo production line, significantly increases efficiency compared to the existing technology.

Lenzing is still the only company in the world with the capability of implementing the complex lyocell technology on an industrial scale and mastering safety requirements.
"Over the past few years Tencel has secured a permanent place on the market for a whole range of attractive applications," says COO Robert van de Kerkhof. "Tencel can exploit its advantages in the apparel, home textile and innovative technical segments. The fibre offers good breathing properties, excellent wearing comfort, high fibre strength and above all its environmentally-compatible production on the basis of wood, as a natural raw material.
Tencel is and will remain a top research and development priority at Lenzing. In the past five years, the company has spent around €100 milllion the development of lyocell technology and has been operating several pilot lyocell facilities at the Lenzing site for 25 years. If demand for Tencel fibres continues to develop as expected, group is likely to construct an additional Tencel jumbo production plant in the medium term.
As of the end of 2014, to total annual Tencel production capacity of the Lenzing Group amounts to about 220,000 tons manufactured at the Austrian sites in Lenzing and Heiligenkreuz, in Mobile, Alabama in the USA and in Grimsby, UK.
Pictured (left to right) are Tencel plant manager Franz Bauhofer, Robert van de Kerkhof and Andrew Ronchetti, head of Tencel operations.