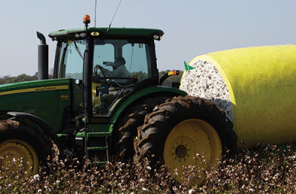 Cotton fibre represented by the Cotton LEADS programme which promotes the responsible production practices of cotton growers in Australia and the United States, has been deemed 100% bio-based amid changes to the United States Department of Agriculture's (USDA) BioPreferred programme guidelines.
The technical innovation of cotton growers in Australia and the United States qualifies Cotton LEADS cotton as a 100% bio-based ingredient for textile and nonwoven products and is included in USDA's online BioPreferred catalogue.

The goal of BioPreferred is to increase the purchase and use of bio-based products while spurring economic development, creating new jobs and providing new markets for farm commodities. Additionally, the increased development, purchase and use of bio-based products is intended to reduce reliance on petrol, increase the use of renewable agricultural resources and contribute to reducing adverse environmental and health impacts.
The 2014 farm law expanded the initial scope of BioPreferred to "promote bio-based products that apply an innovative approach to growing, harvesting, sourcing, procuring, processing, manufacturing or application of bio-based products regardless of the date of entry into the market place."
Cotton LEADS cotton easily met the BioPreferred stipulation for innovation, due to the manner in which cotton growers in Australia and the United States approach and operate their businesses. The cotton industries of both countries are well established, well-regulated, transparent and committed to improvement. But it is the growers' self-investment into research programmes and the willingness to embrace new technologies and techniques that continues to yield high volumes of quality cotton as well as significant and measurable environmental gains.
The Cotton LEADS programme was launched in October 2013 to increase awareness of the transparency, traceability and ongoing environmental gains made by cotton growers in the founding countries of Australia and the United States. The programme has attracted more than 240 industry partners who acknowledge its cotton as part of their sustainable sourcing strategies.