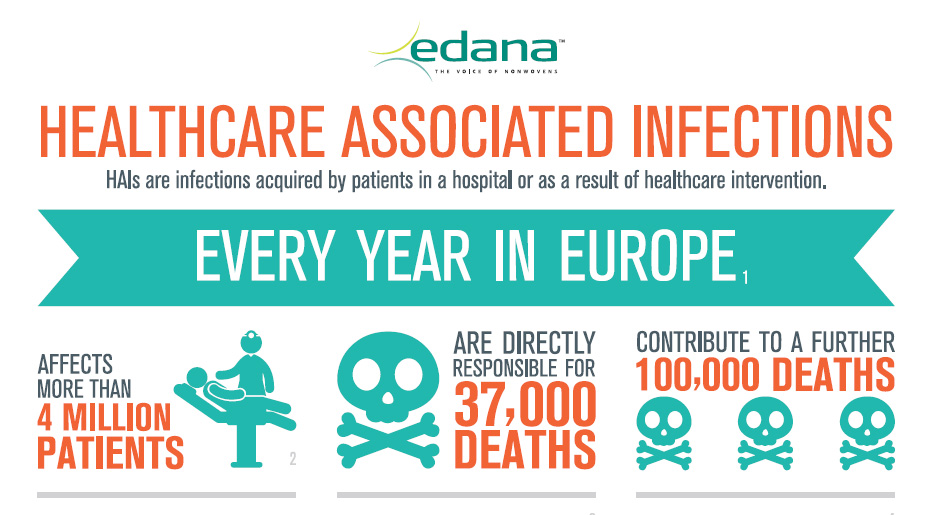 EDANA, the international association serving the nonwovens and related industries, has launched its latest infographic, highlighting the human and financial impact that healthcare associated infections (HAIs) have in the European Union alone.

According to figures from the World Health Organisation, the ECDC and other agencies, HAIs affect more than four million patients, and are directly responsible for 37,000 deaths in Europe every year. In addition, patients with a surgical site infection spend an average 6.5 days in hospital, and are more than five times more likely to die.

This rate of infection not only causes a huge impact on the patient, but has a significant impact on the treating physician and hospitals, costing them more than €5.4 billion every year, and resulting in a financial loss of €7 billion in direct costs.

"Single-use gowns, drapes and other nonwoven products for operating rooms are an effective barrier protection solution, and are essential to the prevention of infections," saYS Abby Bailey, marketing and communications director for EDANA. "Nonwoven surgical products offer every patient a new, secure, unused and sterile material, giving hospitals full compliance with the EN13795 standard for gowns and drapes."
Single-use surgical gowns and drapes are mainly designed for specific procedures, meaning that they are ideal for rapid and easy draping and clean up. Single-use procedure packs not only mean fast preparation and turnaround for the operating room, but also smaller storage requirements than reusables.
EDANA's Medical Device committee is charged with promoting the benefits of single-use nonwovens products to decision makers, influencers and end-users in surgery, wound management and infection control. Membership is open to any member company that is a converter of single-use nonwoven medical devices or that is a supplier to the industry
The infographic, and description of the types of nonwovens and related products for medical use can be found on the EDANA website here.