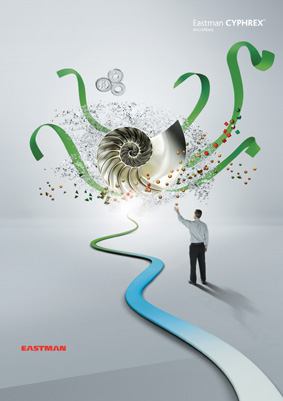 New product possibilities are on the horizon for manufacturers of wetlaid nonwovens and speciality papers with the addition of a flat PET fibre to Eastman's Cyphrex microfibres portfolio.
This fibre, with its novel cross section, enables functional benefits such as uniformity, lightweight strength and improved processability compared with other synthetic microfibres. Flat PET Cyphrex fibres are less than 0.4 denier in size.

"In just over a year since launching, we have begun to build a complementary set of Cyphrex microfibres for wetlaid nonwovens manufacturers," said Fred Dulin, director of the microfibres platform at Eastman. "By offering round and flat fibres – in addition to the various sizes of Cyphrex – nonwovens producers can more precisely manufacture media to fit their customers' needs, giving them an advantage in formulation capability."
With its distinctive, consistent cross section, the flat PET Eastman Cyphrex microfibre is said to greatly improve nonwovens formation and sheet uniformity when compared with other synthetic fibres. These characteristics provide functional benefits in the many applications for which dimensional consistency within and across the nonwoven is critical.
In addition, the fibre provides greater lightweight strength in nonwoven media. Compared with other synthetic fibres, it enables impressive tensile, tear and burst strength within a very lightweight nonwoven sheet. In some applications, these fibres can also improve strength-to-weight ratio and dimensional stability.
The microfibres also disperse easily in water and are compatible with standard wetlaid and papermaking processes and equipment. They don't require special shear or agitation and allow for easy incorporation with a broader range of fibres.
The consistent cross section can give wetlaid nonwovens manufacturers confidence in fine-tuning media formulations for the desired functionality.