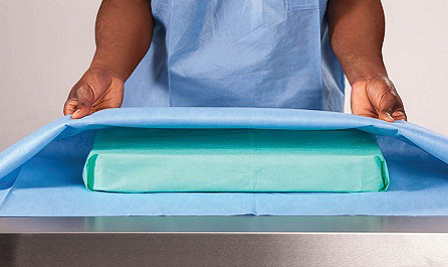 The very latest spunmelt technology is being employed to manufacture the new sterile barrier systems (SBS) designed for light to heavy medical instrument trays being introduced to Ahlstrom's Reliance Tandem range.

The expanded range now consists of grades, from a light 35 gsm to heavy 85 gsm, in four main colours – green, light blue, medium blue and deep blue.
"The variety of weights allows our customers to better meet the needs of hospitals," says product manager Mark Berman. "The expanded range can be used to wrap light packs all the way up to heavy instrument sets."
The Ahlstrom Reliance Tandem range utilises Ahlstromss most advanced SMS (spunbond-meltblow-spunbond) nonwovens technology, in combination with wetlaid and crepe technologies, to provide the optimal combination of sterile barrier systems for sequential wrapping. Sequential wrapping, or interleaving, combines two Ahlstrom SBS wrap sheets. The two sheets, when used together, offer a higher degree of flexibility in terms of performance, technology and cost.
Ahlstrom medical business has production sites in China, France, India, and the United States.