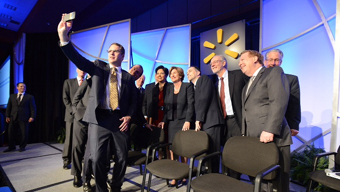 The announcement of a new $100 million recycling initiative called the Closed Loop Fund and driven by Walmart could have a very significant impact in the USA – where it's estimated that all of the corporate and public recycling initiatives undertaken to date have only succeeded in increasing collection rates by 8%.

The fund was announced on Tuesday (April 29th) at the supermarket giant's first Sustainable Product Expo – bringing together the CEOs and presidents of suppliers said to be worth $100 billion in sales to Walmart each year and with $1 trillion in combined company sales.

The initiative will invest in new recycling infrastructure projects and spur private and public funding for transforming the recycling system in the US and is supported by major companies including Johnson & Johnson, Procter & Gamble and Unilever – three of the world's biggest customers for nonwovens.

The need for a new recyling drive was emphasised at the conference by New York's Deputy of Sanitation Ron Gonen, who said his city spent an annual $336 million in exporting waste to landfill that could actually be recycled.

Log in or subscribe to see this content