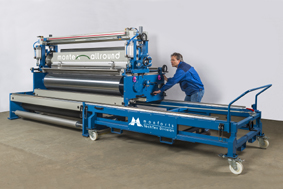 Monforts will introduce its new Montex Allround coating system at the forthcoming ITMA Asia exhibition taking place in Shanghai, China, from June 16-20.

The patented unit offers considerable benefits to manufacturers of coated nonwovens and technical textiles – and not least in respect of its flexibility.
The modular system allows users to carry out a wide variety of coating, printing and other application techniques with the position of the coating head directly within the fabric infeed of the stenter – ensuring the shortest possible distance between the two for high quality coating processes.

The Montex Allround also features individual modules for knife and slot die coating as well as those suitable for flexo, gravure and rotary screen printing. The integration of special modules such as powder scattering and spraying is also possible and the modules are carried, cleaned and moved with a specially-designed trolley which provides easy access to the side of the stenter infeed for the minimum downtime.
An explosion-proof cabinet for treating certain solvents is also available for ensuring safe operation, with the operator standing outside the enclosure.