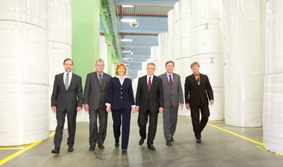 Sandler AG reports a better than expected 2013, during which it manufactured approximately 100,000 tons of nonwovens and generated record sales of €274 million.
The company now employs 600 people at its plant in Schwarzenbach, Germany and continues to invest in technology, including the versatile new €15 VS 32 line, which employs both needlepunching and thermal bonding – often in combination – for the production of voluminous roll goods and sheets for technical applications including lightweight, easy-to-handle heat and sound insulation materials, as well as filter media and home textiles.
The nonwovens industry is becoming increasingly fast-paced, the company reports, with shorter lead times requiring a high level of flexibility in the planning of orders and systems operations. Set-up times and downtimes have to be kept at a minimum to enable maximum flexibility and the availability of production capacity. For this purpose, Sandler has also invested €2.5 million in the expansion of its technical service centre. The new building is serving as a hub for internal logistics and is a central warehouse for spare parts for the production lines.
At INDEX 14, visitors will be able to discuss an extremely wide area of application for Sandler nonwovens with the company's specialists, in areas ranging from hygiene and wipes to technical applications for the automotive, filtration and construction sectors.