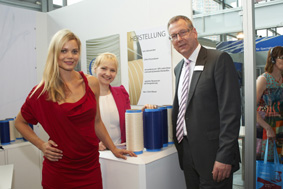 Having received an Innovation Award for the development at Techtextil in 2011, Qmilk, based in Hannover, Germany, is moving to industrial-scale production of its casein milk protein fibre.

At this week's Techtextil in Frankfurt, company founder Anke Domaske said a new line is under construction which will have a capacity of around 100kg per hour, compared to the current pilot line in Bremen which has output of just 6kg hourly.

She likened the patented fibre manufacturing technology to noole manufacturing, involving pushing the casein powder and water through an extruder. The resulting fibres can then be cut into staple products or supplied in filament form.

"Because of our technology and special recipe, we set new standards in the field of fibre production," she said. "Only natural and renewable raw materials are used and no waste is generated during the process. All we need is two litres of water and an hours processing time per kilogram of product."

The casein is produced from raw milk that can no longer be marketed and is not allowed to be used as food. Around 1.9 million tons of such milk are disposed of in Germany every year.

A process for producing milk fibre was first invented back in the 1930s, but involved formaldehyde and met with little commercial success.

"Qmilk's a fibre that's safe enought to eat," said Ms Domaske. "It's biodegradable and leaves no trace. It's also 100% antibacterial, temperature regulating, UV filtering and inflammable to B2 standard.
Pictured at Techtextil 2103 is Anke Domaske (centre) with Messe Frankfurt's Michael Janecke and a model wearing a dress made from 100% QMilk fibres.