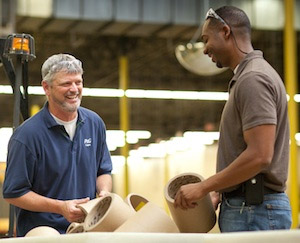 Number one nonwovens customer Procter & Gamble reports that 45 of its global plants have now achieved zero manufacturing waste to landfill and that over the past five years its has saved over $1 billion as a result of waste initiatives.

"We have a vision for the future, where plants are powered by renewable energy, products are made from recycled and renewable materials and resources are conserved, with no waste going to landfill," said president CEO and chairman Bob McDonald. "Changing the way we see waste as a Company has brought us one step closer to this goal at 45 sites worldwide, where all of our manufacturing waste is recycled, repurposed or converted into energy."
P&G announced its first zero manufacturing waste to landfill site in Budapest in 2007. Since then, the company has worked towards zero consumer and manufacturing waste worldwide. Through quality assurance, packaging reduction, compaction and recycling efforts, the company now ensures that 99% of all materials entering P&G plants leaves as finished product or are recycled, reused or converted to energy. As it celebrates its 175th year in 2013, less than 1% of all materials entering P&G sites globally leaves as waste.

"P&G's zero manufacturing waste initiative is setting a standard for others to follow," said Steve Owens, former assistant administrator of the United States Environmental Protection Agency and member of P&G'S Sustainability and Technical Expert Advisory Panel. "Its efforts are helping protect the environment, conserve precious natural resources, and make our planet cleaner and healthier for our children, families and future generations."

To drive all sites toward zero, P&G has searched for innovative ways to find value in what was once seen as waste. In Mexico, paper sludge from a Charmin toilet tissue plant is turned into low-cost roof tiles used to build homes in the local community. At a US Pampers site, scrap from the wipe manufacturing process is converted to upholstery filling. And in the UK, waste created in the production of Gillette shaving foam is composted then used to grow turf for commercial uses.

"There are well-defined systems for recycling materials like paper, plastic and glass, but our product portfolio is incredibly broad, resulting in a diverse set of waste streams to find sustainable solutions for," said Dr Forbes McDougall, who leads P&G's global zero manufacturing waste program. "We focused on finding solutions for our toughest waste streams at our largest sites, and while initially we saw progress in our overall corporate recycling, the increase in zero landfill sites was slow. Today, we have found ways to divert most of our major waste streams away from landfill, so we're now seeing new sites achieve zero manufacturing waste to landfill nearly every month."

On April 22, P&G will hold a global, live discussion on 'Sharing a Vision and Zeroing in on Waste'. The conversation with P&G's Sustainability leadership will be hosted by The Guardian and will feature crowd-sourced questions and live Q&A. To register, visit http://www.cvent.com/d/qcqr7d.