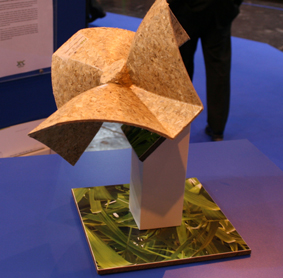 The Austrian Wood Competence Centre received the Biocomposites Innovation Award at last week's JEC Composites Show in Paris.

This is a new composite based on 100% renewable resources which can be shaped with limited technical effort into complex 3D geometries.

It is based on needlepunched nonwovens of flax, hemp, wood or even bullrushes (Typha), in combination with various thermoset resins. These can be shaped and cured on a typical carpenter press, within reasonable production parameters in respect of pressure, temperature and time.

Wood K Plus was developed in cooperation with fellow Austrian organisations furniture maker SKF Tischler, the University for Natural Resources and Life Sciences in Vienna and green materials specialist Naporo Klima.