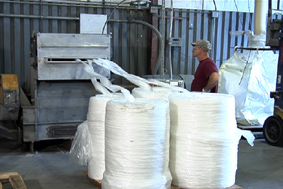 Setting a new precedent for the global manufacturing industries, DuPont Building Innovations has moved from landfilling over 36,741 metric tonnes of waste to zero in just three years.

This has been achieved via the 'Drive to Zero' programme across the 15 sites this DuPont business operates worldwide – involving the alternative disposal of all Tyvek nonwovens and geosynthetic fabrics, as well as Corian solid surfaces and Zodiaq quartz products.

"The Drive to Zero landfill programme is good for our business, good for the environment, highly valued by our customers and envied by our competitors," said Timothy P. McCann, president of DuPont Building Innovations. "Working with our supply chain partners was critical to its success."

As a result of the programme, the following alternatives to landfill are now in place:

Tyvek nonwovens wrap and flashing manufacturing trim is recycled back into first-grade material.
Sanding waste from the manufacture of Corian and Zodiaq is used as a filler replacement in concrete.
Ground-up scrap Corian sheet is used as recycled content in first grade products – such as the company's Terra Collection of Corian solid surfaces that now contain up to 20 per cent recycled content.
Crushed scrap Corian is sold for use as road sub-base material and as landscape stone.
Shipping pallets are repaired, reused, or ground into animal bedding.
Carrier belt film is melted and used to make adhesives.
Even cafeteria waste at the worldwide DuPont BI plants is either recycled into worm bedding or converted into energy.
Six Sigma methodology was used throughout the three years of the project, which was critical in helping the team map out all the waste streams involved. Using this approach allowed the team to understand where and why waste streams were generated and how much waste was being produced by each.

The Drive to Zero landfill project was particularly unique in that it included third-party partner sites, where products are often made for other companies. This meant that the project team had to manage the challenge of eliminating all unrelated product manufacturing landfill waste.

This is really a top achievement by any company's standards, pushing DuPont out in front.