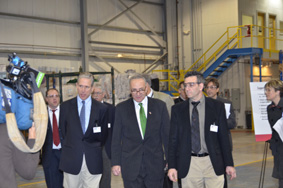 Hollingsworth & Vose has expanded operations and created new jobs at its plant in Easton, New York, in response to increased demand for nonwoven battery separator materials which are employed in lead acid batteries in start/stop vehicles.

These advanced technology batteries reduce CO2 emissions by 5-7% and the decrease in idling time improves fuel economy by 5-10%.
H&V's patented materials are the most advanced available for lead acid batteries, providing three times greater life, higher charge acceptance, higher cranking performance and decreased explosion hazard.

The Easton plant was this week visited by US Senator Charles Schumer, who is pictured with Hollingsworth & Vose President and CEO Val Hollingsworth (left) and Mill Manager Dino Rosati (right).