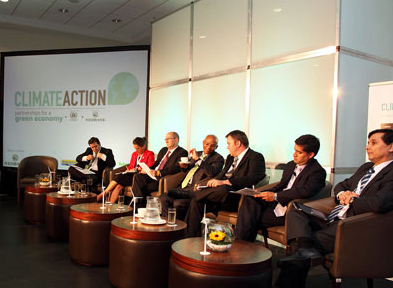 NatureWorks once again partnered with Climate Action for this year's COP17 in Durban at a special networking reception held on December 7.

With key decision makers and personalities in attendance, the event was proof that issues surrounding climate change and sustainability are gathering momentum for non-governmental organizations and businesses.

Nonwovens are now well-represented in Ingeo's portfolio and include Ahlstrom's tea-bag materials, Earth's Best Tendercare and GroVia diapers, Elements Natural wipes, Sommer needlepunch carpets and Toyota automotive interiors.

Other global brands who have launched Ingeo-based products now including Bioserie, Electrolux, Henkel, LG Hausys, Shiseido, Stonyfield, Walmart and Target. Through these products, they are contributing to tangible CO2 reduction, says NatureWorks, and by supporting international events such as COP17 they generate visibility for sustainable and innovative products and business practices.

The COP17 special edition Ingeo LookBook, which illustrates the breadth and increasingly mainstream nature of low-carbon-footprint products now available to consumers. New Ingeo products span multiple industries and categories, including packaging, electronics, clothing, house wares, health and personal care, semi-durable products, and the foodservice industry.

In 2011, NatureWorks estimates that its aggregated total Ingeo sales into consumer products such as these has reduced CO2 emissions equivalent to driving a car 312,708,697 miles in the US, as well as contributing fossil energy savings equivalent to the electricity consumed by 534,138 US residents in one month.

"In the three years we have been involved with COP, we have noticed a growing presence, interest, and concern among decision makers," says Marc Verbruggen, president and CEO of NatureWorks. "One of the core elements of our strategy is to communicate as well as innovate, by being present at industry events in order to showcase practical examples of intelligent innovation that reduce CO2 and dependence on petrol."

NatureWorks has recently attracted investment from leading Thai company PTT Chemical, which will allow it to continue its growth internationally and supports the company's intent to begin construction of the next Ingeo manufacturing facility. The plant, which will be located in Thailand, will allow NatureWorks to meet global demand for Ingeo bioplastic, which is growing by 20 to 30 percent per year.

"The increased capacity from the second plant and more Ingeo in the hands of brand owners will mean additional climate benefits by way of reducing CO2 emissions," Verbruggen said.
Climate Action is a multimedia platform consisting of a website, newsletter, and annual publication, produced in partnership with the UNEP. It aims to encourage businesses and large organisations to reduce their carbon footprint, and puts forward the business case for climate change – namely, that environmentally responsible operations can also be profitable.