SHANGHAI – New nonwovens technology was high on the agenda for many visitors to Cinte Techtextil – the first live exhibition to be held for many months.
The event attracted 409 exhibitors and over 15,300 visitors across 38,000 sqm at the Shanghai New International Expo Centre from September 2-4 and going forward it will be held annually, rather than every two years.
"While some things changed with this edition – namely the addition of a new online platform to allow those who couldn't travel to Shanghai to source from our exhibitors – what remained the same was the fair's strength as a platform to capture the opportunities of China's still-growing technical textiles and nonwovens markets," said Wendy Wen, senior general manager of organiser Messe Frankfurt (HK) Ltd. "While the pandemic has undoubtedly had an economic impact, the prospects remain bright, with China's industrial output growing in the second quarter of this year, spending on high-tech infrastructure expected from a stimulus package, and an increased emphasis on the government's new 'dual circulation' economic framework strategy of boosting domestic demand while at the same time attracting foreign investment and stabilising trade."
Medical and Protective
Strong domestic exhibitor participation ensured the size of the fair remained the same as the previous edition in 2018 while the new Medical and Protective Zone provided a chance for companies to showcase their products and technologies for combating the current and future pandemics.
"Cinte Techtextil has given us access to many customers that we couldn't reach due to the pandemic," said Billy Zhu, sales director for Truetzschler in Jiaxing. "The Chinese nonwovens market – especially for the spunlace industry – has experienced rapid growth recently. The pandemic has further boosted this growth, and with changes in living habits, I believe the market will continue to grow in the coming years too.
The focus of A.Celli was on printing machines and automated inventory systems.
Automation
"We've received quite a lot of orders recently due to the trend of automation upgrading in China," said Calvin Liu, president of A.Celli Shanghai Machinery. "Due to the impact of COVID-19, market demand is all about reducing labour and switching to intelligent manufacturing. We've had double the order volume compared to previous years, and a lot of contracts are under negotiation. We expect the rapid development and investment in new projects will continue into the first two quarters of next year. A lot can happen in the market in one year, so we welcome Cinte Techtextil being held annually."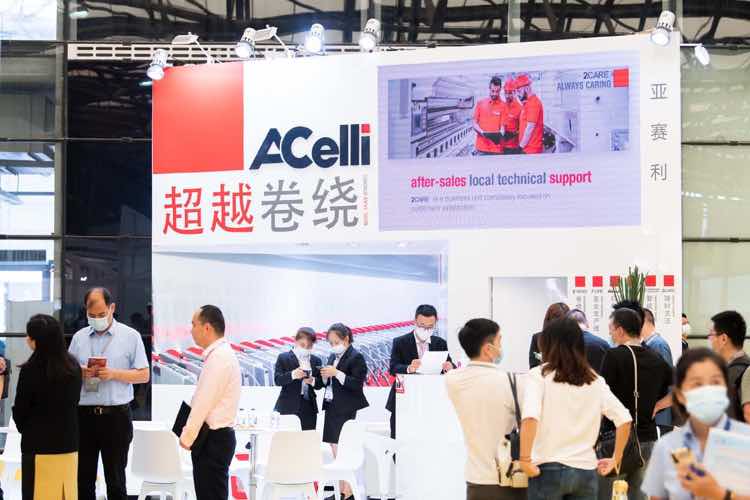 Cotton Council International reports that products made from US cotton such as dry tissues and wet wipes were very popular among buyers, and the company's booth already very busy on the first day morning.
"Face-to-face interaction is especially important for this industry so this is a good recovery platform for the industry," said the organisation's senior manager in Shanghai, Eric Ni.
"Before the pandemic's effects this year, demand from consumers in China for our products was increasing significantly as they pay more attention to health and hygiene," added Liu Yong, a sales manager for Sanitized in China.
Anti-viral
Zheng Xiaoqin, a material engineer for Hyundai in South Korea, was specifically seeking Chinese nonwovens manufacturers.
"I think the market will now focus more on the anti-viral properties in automotive interiors due to the pandemic and consumers will want to know about the latest technologies in this regard," he said.
Miao Jianping, general manager for Jiyuan City Xiaolangdi Non-Woven, was also looking for nonwovens machinery, including fabric cutting machines and spunlace equipment.
"The exhibitors are the leading companies in their respective fields and the products span the entire industry, from upstream equipment and raw materials to finished products.
www.techtextilchina.com