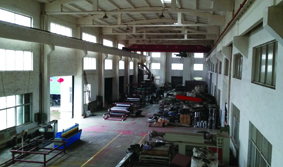 Richard Hough Ltd. (RHL), the UK specialist in calendering and dewatering roll technologies, has opened a new service centre in Changzhou, in Jiangsu province, China.

It is fully equipped with lathes, grinding machines, overhead cranes and a roll press, enabling a wide range of services to be provided for customers in the region. Roll regrinding and the fitting of the company's newly-developed Roberto and RoberteX sleeves onto customer roll shafts are among key services it will provide.

Major producers such as Guangdong Esquel Textiles and OEMs such as Jiangyin Guoguang Calender and Fiber Roller are among existing customers for Roberto high expression dewatering rolls and Syncast polyamide calender rolls.
The new centre will dramatically improve logistics, boosting new business links in the region. Changzhou is part of the Shanghai-Wuxi-Suzhou region which now has over 36 million inhabitants.