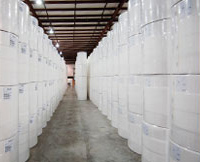 Évora, the Brazilian holding company formerly known as Petropar, which is the owner of leading spunmelt producer Fitesa, has announced a new $300 million expansion plan.
This includes investments at Fitesa's plants in the US, Sweden and China which will see the company's capacity increase from an annual 242,000 tons to 292,000 tons.
The plan, to be realised in 2015, was outlined by Évora CEO Geraldo Enck in the Brazilian financial journal Valor Econômico.