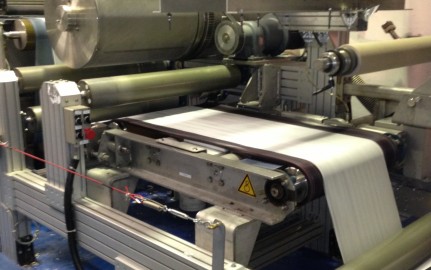 Barnhardt Manufacturing has been testing the suitability of its HyDri cotton products as hydroentangled nonwovens at the Andritz Perfojet pilot plant in Montbonnot, France – with convincing results.
Fabrics produced from HyDri hydrophobic cotton fibre and HyDri/polyester fibre blends are subsequently being targeted for use as the topsheet (coverstock) in diaper and feminine hygiene products, while fabrics produced from 100% HiLoft large diameter cotton are eminently suited for the acquisition and distribution layers used in adult and infant diaper products.
Andritz Perfojet is one of the two major manufacturers of turn-key hydroentangling lines and there are currently 180 Perfojet hydroentangling lines in operation worldwide. At Monbonnot it has a a state-of-the-art, 0.5 metre-wide pilot line for producing hydroentangled fabrics at commercial speeds and pressures.
The line is equipped with the newly developed Andritz Asselin-Thibeau Isoweb TT card which produces a web with nearly isotropic fibre orientation, yielding fabrics with very little difference in machine and cross-machine strength. All of the hydroentangled fabrics during director of product development Chuck Allen's visit were produced with the line speed set at 100 metres per minute, without any processing problems noted by the Andritz operators.
On request, fabric samples are available – in limited supply – along with physical properties measured on each fabric.