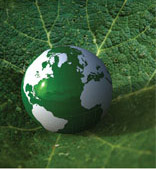 The Industrial Biomaterials programme is a $55-million, five-year initiative being launched in Canada to encourage firms to transform agricultural and forestry by-products into new materials.
Bioresins, biofibres and biocomposites made from Canadian non-food biomass such as wood, lignin, grain husks, flax and hemp stems will be developed as part of the programme, which is receiving a $30 million investment from the the National Research Council of Canada (NRC) along with and additional $25 million generated through collaborative projects with industry, academic institutions and other government departments.
"This new programme will strengthen Canada's role as a leader in the development of innovative, and sustainable materials and technologies," said Canada's Minister of Science and Technology Greg Rickford. "This is yet another example of how we're ensuring more ideas get to the marketplace. This programme integrates the expertise of the NRC with the business know-how of Canadian industry leaders to manufacture new lightweight, cost-effective and bio-sourced materials for next generation vehicles and homes."
"Agricultural and forestry by-products will be integrated into new materials, which will ultimately reduce the use of petroleum-based polymers," added John R. McDougall, president of the NRC. "These biomaterials promise to be as safe as the materials currently in use by industry, inexpensive to produce and the ideal lightweight technology for the automotive and construction sectors."
The programme will also help Canada's transportation and construction industries remain competitive in global markets by ensuring that automotive parts manufacturers and green building material suppliers can adopt these technologies.