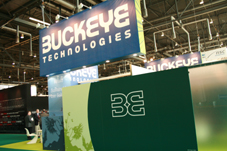 The sale of the Merfin Systems converting business in North Carolina in mid-2012 resulted in a fall of $10 million in sales of airlaid nonwovens for Buckeye Technologies in its financial year to the end of June 2013.

And overall, the company's sales were down $82 million year-on-year, primarily as a result of lower fluff pulp and speciality cotton fibres pricing and an unfavorable sales mix due to weak market conditions in Europe.

Adjusted net income for 2013 was $92 million compared to a record $111 million in 2012.

The two biggest drivers of the reduction in adjusted net income were lower again fluff pulp prices and unfavorable sales in the specialty fibers segment, where operating income was down $34 million. Operating income for the nonwoven materials segment was up $9 million in 2013 compared to 2012, due to a large reduction in fixed manufacturing costs as a result of the closure of our the company's airlaid plant in Delta, British Columboa, Canada in December 2012.

Buckeye, headquartered in Memphis, Tennessee, now has plants in both the United States and Germany.