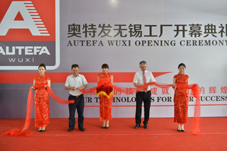 An inauguration ceremony has just been held for Autefa Solutions Wuxi which has been founded to combine Chinese and European technologies for the local market.

Its first market introduction is the Uniliner CL 88 Crosslapper, a reliable and economical machine equipped with modern drive technology and based on the company's successful Topliner series.

"We are now offering a unique blend of European and Chinese technology under the Autefa brand," said CEO Stefan Schlichter. "The design and software will be supplied from Europe with production and assembly taking place at the new Wuxi site.

As the main Autefa companies, Fehrer, F.O.R. and Octir are located in Austria, Italy and Germany respectively and all have a long and successful history in turnkey lines for nonwovens.

In 2011 China Hi Tech Group Cooperation (CHTC) acquired the companies from Oerlikon.