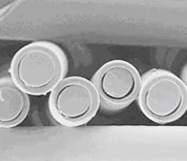 Global hygiene nonwovens giant Fitesa has announced the development and commercialisation of a new 100% sustainable and bio-based spunbond fabric for the hygiene and personal care markets.

It is composed of not one, but two bio-based polymers in a sheath-core, bicomponent configuration that takes full advantage of each polymer's unique features.

The spunbond fibres consist of a polyethylene (PE) sheath, which is produced from sugar cane, and an Ingeo PLA core. The resulting material is extremely soft, due to the PE outer sheath, yet remains strong and robust due to the PLA core.

The company is also launching a new elastic spunmelt fabric which is the result of Fitesa's bicomponent technology combined with advanced elastic polymer chemistry.

The technology provides the flexibility to tailor a spunmelt nonwoven that will meet requirements currently only possible with complex nonwoven/stretch film laminates.

Potential applications include hygiene stretch components such as waistbands, ears and tabs, medical applications including face masks, cuffs, wraps and bandages and other applications where stretch and recovery are important.