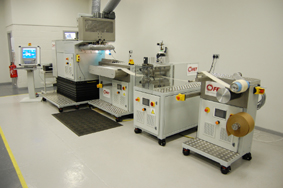 The first meltblown nonwovens manufacturing line capable of handling a wide range of new and high value fibres has recently been shipped from the UK to a specialised medical products manufacturer in the USA.

The technology could prove highly suited to companies looking to develop materials with the new biopolymers that are rapidly coming to market.

It has been developed and built by Leeds-based Fibre Extrusion Technology (FET) specifically to process the resorbable polymer PGA into materials which are employed, among other things, as support substrates for sutures.

"Our task was to develop the technology which would work with such polymers that are not usually suitable for the meltblown process," said Mark Smith, who is responsible for the development of medical device applications at FET. "They have a high flow index and are very viscous, for instance, making them tricky to handle."
Log in or subscribe to see this content