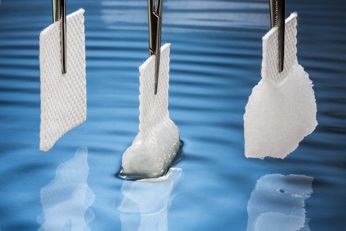 Freudenberg reported record sales for the fifth year in succession in 2014, with the company's nonwovens and filtration businesses contributing €1,279 million to overall sales of €7,039.1 million.

This compares to €6,662.5 million in 2013 representing growth of 9.4%.

Consolidated profit was €478.3 million compared to €401.5 million and at the end of December 2014, the group employed 40,456 people.

Freudenberg Performance Materials, combining Freudenberg Nonwovens and Freudenberg Politex Nonwovens began operating in January 2015, bringing a number of advantages.
"The extended material expertise, the global positioning and leveraging of economies of scale are just a few of the benefits of this new united path," said CEO Mohsen Sohi.
In August last year, Freudenberg Nonwovens acquired the companies which operate the Hänsel brand interlinings business from Hänsel Textil GmbH, based in Iserlohn, Germany. This transaction brings Freudenberg know-how and innovative technology in order to expand its offering in the knit products segment in future.
Freudenberg Filtration Technologies meanwhile acquired the industrial activated carbon corrosion protection business of the American company MeadWestvaco Corporation during 2014. With this acquisition, Freudenberg can offer its global customers additional future-oriented air filtration solutions.
In January 2015 Freudenberg Performance Materials then acquired Polymer Health Technology based in Ebbw Vale, UK, a leading specialist of polyurethane foams for advanced wound care.
Freudenberg invested more than ever before in innovation during 2014. Research and development expenditure, with the joint ventures consolidated on a pro-rata basis, has risen from €181.3 million by about 50% to €270.3 million between 2010 and 2014. The aim of all activities is to increase the share of sales accounted for by new products. In 2014, the share of new products introduced in the past four years was 28.2% of total turnover.
"The most important foundation of our corporate success is innovation," said Sohi.