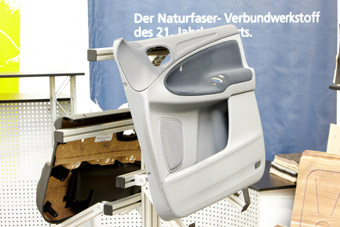 Materials made from wood flour, cotton, flax, jute and even hemp are already being deployed as compression moulding components – especially by the automotive industry – with other trades increasingly following suit.
Biocomposites are steadily gaining in importance for the future of the manufacturing sector and their full potential will be showcased at Composites Europe 2014 from October 7-9 in Düsseldorf, Germany.

A number of exhibitors specialising in biocomposites – with the majority based on needlepunched nonwovens – will be present, along with Germany's Nova Institute.

For over two decades, this private and independent research institute has been globally active in areas such as raw-material supply analysis, techno-economic evaluation and market research.
Its managing director Michael Carus, already sees a positive trajectory for biocomposites being used in a range of manufacturing applications.
"In 2012, about 100 companies in the EU produced more than 350,000 tons of wood and natural fibres-reinforced biocomposites," he says. "The majority of these products were extruded into decking using wood flour and wood fibres – wood-plastic composites or WPCs. Natural fibres are deployed primarily for use as compression-moulding parts in car interiors. In 2012, 90,000 tonnes of these natural fibre composites were used by automobile manufacturers across Europe. The combined share of WPC and NFC biocomposites has already reached 15% of the total composites market. A favourable political and economic framework has been creating clear forward momentum, particularly for injection and compression moulding, which will replace significant amounts of conventional composite materials. This would greatly reduce greenhouse gas emissions.
Among biocomposites companies present at Composites Europe this year will be Belgian leader Amacell Benelux, Basaltex NV and Beologic. Additionally, the Swiss firm Bcomp, the European Industrial Hemp Association, the Dresden non-profit Forum Technologie and weaving mill Güth & Wolf, Isowood and Jakob Winter. Displays will focus primarily on materials based on wood and natural fibres such as flax and hemp. Biowert will also present materials containing meadow grass.