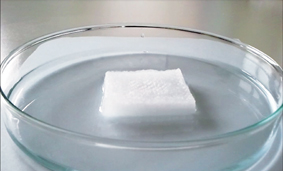 Freudenberg says it has been instrumental in bringing about the transition from knitted fabrics to functional nonwovens as the base materials of choice for advanced wound care – one of a number of application areas that will be the company's focus at INDEX 14.
In order to ensure a moist environment, Freudenberg primarily uses highly-absorbent fibres in materials that adapt perfectly to fit the wound bed. One notable recent development has been the use of chitosan fibres in combination with hydroactive nonwovens, while research into transdermal solutions is based on a cooperation with Japan Vilene, a joint venture partner with extensive know-how in this segment.
For the hygiene industry, Freudenberg supplies ultra-light and skin-friendly topsheets, backsheets and acquisition distribution layers characterised by excellent wear comfort due to their cotton-like structure, along with special solutions such as eco-friendly ADLs.
An ultra-light version of Evolon with a 3D structure, meanwhile, has an extremely soft touch and high volume, with the cleaning efficiency of a microfilament cloth.
The general-purpose microfilament-based material can be used for both wet and dry applications – in industry for the surface treatment of cars, for example, or in professional cleaning, as well as in the consumer sector, as LCD wet wipes or cosmetic wipes.
Evolon has an ultraviolet protection factor of 80 – the maximum ultraviolet protection factor – making it an interesting option for textile manufacturers, as well as the makers of sunshades, awnings, etc.
In the automotive sector, ultra-light SoundTex acoustic nonwovens reduce the thickness and weight of sound-absorbing materials while delivering the same acoustic performance. Cut edges that don't fray and good formability make the material very easy in processing.
The newly-developed bicomponent fine filament spunlaids on display in Geneva are suitable for a range of applications, since different polymers can be combined in a single filament. The materials can be used in packaging, coating substrates, reinforcements, cover materials, hygiene and cosmetic products and automotive applications.