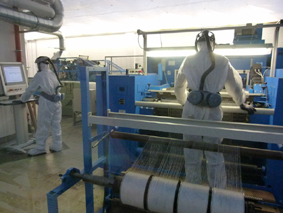 The Saxon Textile Research Institute (STFI) held its 11th re4tex recycling conference in December, after claiming the 2013 German Resource Efficiency Award for its CarbonWasteCycle research project.
Not surprisingly, the 11th re4tex, which was attended by a record number of delegates, featured a range of papers on recycling carbon, since there is currently a huge effort underway in Germany to better understand and exploit all aspects of carbon composites processing.
The MAI Carbon Leading Edge Cluster Initiative, for example, involves no fewer than 72 businesses and educational/research institutes centred in the Munich-Augsburg-Ingolstadt region of the country. It was founded at the prompting of industry organisation Carbon Composites e.V, (CCeV) with support from Germany's Federal Ministry of Education and Research. In addition to the CCeV itself, founding partners of MAI Carbon are Audi, BMW, Premium Aerotec, Eurocopter, SGL Group and Voith.
Series production of the BMW i3 – the world's first purpose-designed electric vehicle – which began in September 2013 can be viewed as a defining moment in the history of carbon composites development.
The STFI's CarbonWasteCycle has developed routes for the re-use of carbon fibre trim and waste for use in lightweight construction materials.
"Because sustainability is an important matter from a researcher's perspective, we are proud to be honored with this award," said Andreas Berthel, managing director of the STFI. "Technical engagement with recycling processes for textile materials is a key focus in research and development at the STFI.
"After extensive research work, we have been able to successfully implement the recycling of resin-free carbon fibres," added STFI research director Dr Heike Illing-Günther. "Today we are able to manufacture carbon fibre nonwovens as a raw material for lightweight construction in non-load-bearing areas. This n offers great potential savings for carbon fibre-processing industries and provides an essential input for the resource-efficient handling of the energy intensively-manufactured carbon fibres."
With the German Resource Efficiency Award, the Federal Ministry of Economics and Technology honours outstanding ideas for material-efficient products, technologies, services and application-oriented research results.