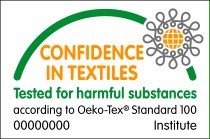 Cerex Advanced Fabrics, the Greensboro, North Carolina-based manufacturer of speciality nylon spunbond fabrics has Oeko-Tex Standard 100 certification for its chemical bonded Cerex and thermally bonded PBN-II products.

These materials are employed in bedding, filtration, apparel, composites, automotive and aerospace applications and the certification indicates that they have been tested to be free from harmful levels of more than 300 substances believed to be harmful to human health.

"We have relied on Oeko-Tex certification for many years," says Warren Whitfield, VP of operations at Cerex. "The label is an indication of high quality, safe products that is recognised throughout the world, especially in the European sector, where our products must attain the highest standards to meet the needs of the marketplace."

Oeko-Tex certification is an important component of Cerex's overall corporate responsibility strategy which includes commitment to product quality, sustainable solutions, and transparency.
Cerex is ISO 9001 certified and its products are compliant with the most current lists for Substances of Very High Concern (SVHC) under the REACH and ECHA initiatives as well as the Dodd-Frank Act. Cerex also provides RoHS compliance information regarding hazardous substances in electrical and electronic equipment.

"In my work with manufacturers around the US, Cerex stands out as a leader in product quality, lean manufacturing and environmentally responsible operations," says account manager Malinda Salter who represents Oeko-Tex in North America and performs the onsite audits required to maintain Oeko-Tex certification. "They are expert at leveraging their Oeko-Tex certification to maximise international compliance and provide reliable assurance to their customers around the world."