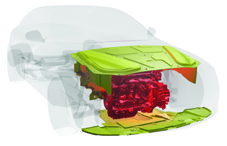 The operating temperature in the engine bay is an important parameter for reducing CO2 emissions in cars. Intelligent engine encapsulation helps to store heat for a relatively long period and also reduces CO2 emissions during cold starts.

As a leader in products for acoustic and thermal management Autoneum's new Theta-FiberCell technology for this purpose combines nonwovens and foam absorbers that are engineered to an individual vehicle's requirements. The first series application by a European car manufacturer is now underway.

In addition to good acoustic properties, the integrated thermal insulation and the resulting high temperature stability of Theta- FiberCell of up to 200°C, other advantages of the insulation material are its low weight, its low flammability and its high resistance to engine vibrations. Depending on the application-specific composition, the product contains a varying proportion of recycled fibres.

The porous fibre-foam solution can also store heat for a relatively long time after the engine has been switched off.

In a test conducted according to the NEDC (New European Driving Cycle) standard, Autoneum has demonstrated that the temperature of a car engine after twelve hours of being stationary is about 6°C higher with Theta-FiberCell encapsulation than it would have been without it. This temperature difference has a positive effect on the viscosity of the engine oil – higher oil temperature results in lower internal friction within the engine and ensures more efficient driving.

Each increase of 6°C in the oil temperature means 3 grams less CO2 per kilometre driven.

The use of innovative new materials in automotive platform series production is always preceded by extensive development work. For this purpose, Autoneum provides not only thermal protection and acoustic packages but also measurement systems for analyzing the acoustic absorption properties of materials and components.

Its Alpha Cabin was developed to support the creation of optimised acoustic packages for vehicles and is considered as the worldwide standard for measuring acoustic absorption properties. Equipped with five microphones for acoustic measurements instead of the single one used up to now, a more rapid software, new measuring electronics and other newly integrated features, the latest Alpha Cabin allows the test time to be halved. Customers can have their Alpha Cabin of the first generation retrofitted according to the new standard.