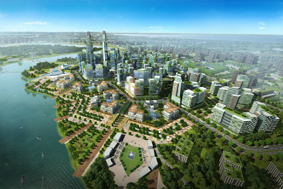 Tianjin Eco-City is a new sustainable city in the making which is emerging to the southeast of Beijing in China, over an area of 34 square kilometres.

In a strategic cooperation between Singapore and China, the city is being constructed to sustainable princples and is planned to be a centre for sustainable business activities in what was formerly a desolate and remote region.

It will become home to 350-400,000 people by 2020 and serve as a role model in China for future living environments and sustainable developments.

During the first stages of construction, TenCate's Geotube geotextile technology was used to transform a contaminated wastewater impoundment near Tianjin into Qingjing Lake.

Some 18,700 metres of containers based on this technology were used for cleaning (dewatering and storing) contaminated dredged slurry. The containers ranged from 27.5 to 30.5 metres in circumference and were filled with contaminated sediments which were then dewatered. The containers were stacked in four layers, capped and integrated into the landscape, forming a 9 metre high mound with a footprint area of 12 hectares.

Increasingly the market is recognising the positive value of geotextiles when it comes to sustainability, in terms of both their life span and only minor environmental impact, TenCate says.
The Dutch company's Water and Environment business received the Outstanding Achievement Award from the Industrial Fabrics Association International (IFAI) for this work at the end of 2012.