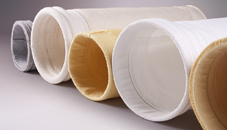 Andrew Webron Filtration is a new Andrew Industries company which brings together two long-established UK filter bag manufacturers – Tyne Tees Filtration in Stockton-on-Tees and Ltd and Heath Filtration in Stoke-on-Trent.

The new business will combine the knowledge, expertise and experience gained during the a combined 100 years of operation by the two companies.

The merger will result in a company with additional manufacturing capabilities, a more diverse product offering and enhanced technical support.

Andrew Webron has also taken delivery of new equipment to support its strategic growth plan, including new fibre opening, carding, crossfolding, drafting and needling looms for the manufacture of dry filtration needle felts.
The new equipment will be operational by May and follows on from the installation of a chemical impregnation line and lamination equipment.